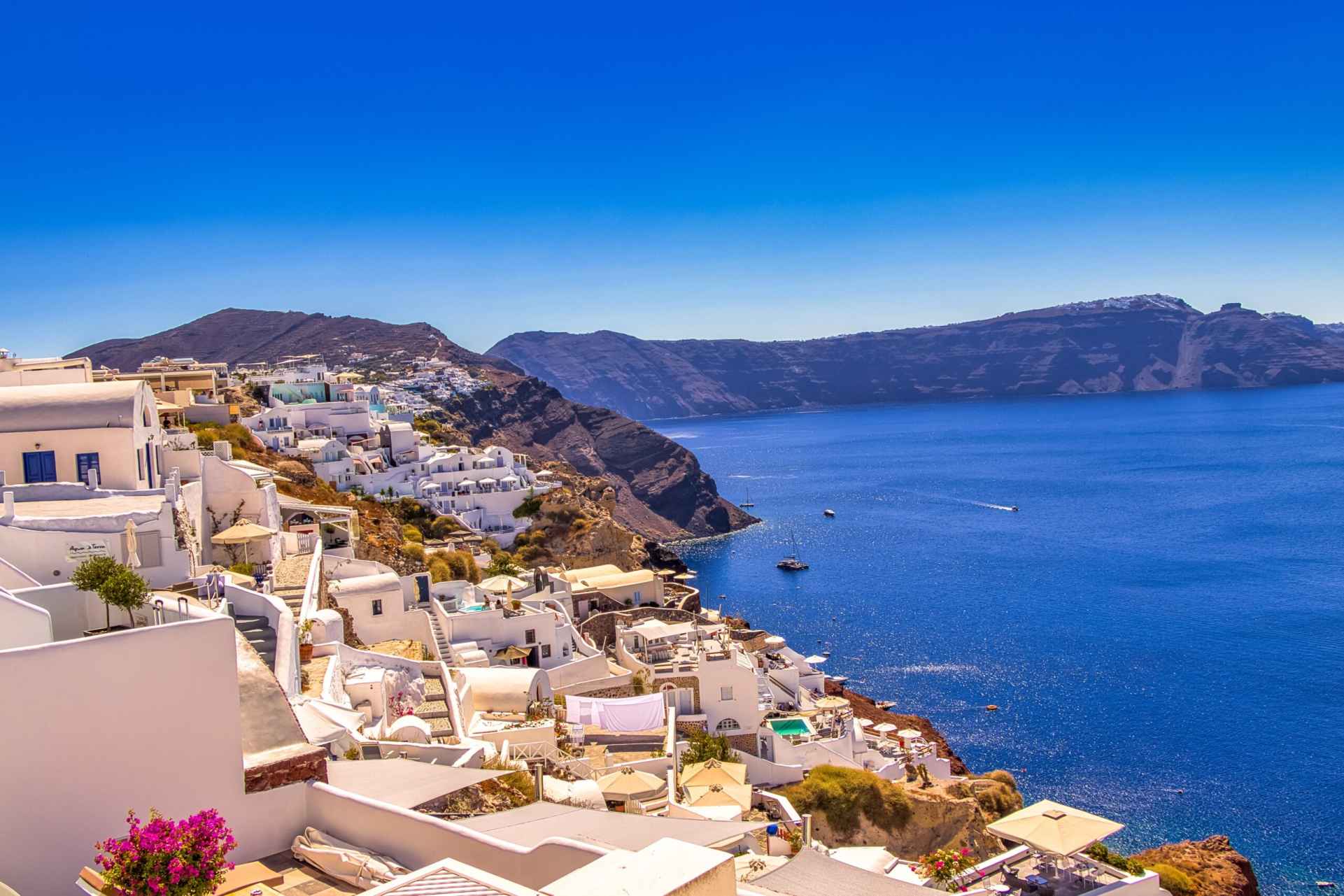 Slide 1
Sail into the
Sunset
: A Santorini Adventure
A luxurious sunset sailing experience! Sail on the "Thalassa" from Fira to Nea Kameni volcano for a stunning sunset and enjoy a traditional BBQ buffet, hot springs, and crystal-clear waters of Thirassia before admiring the quaint town of Oia and watching the sun set into the sea.
Slide 3
Oia Sunset: A Mesmerizing Experience of Colors and Views
Discover Oia's enchanting beauty on our sunset tour. Explore the town's unique architecture and stunning views before witnessing the world's most beautiful sunset. Marvel at the breathtaking scenery from a cliffside viewpoint as the sun paints the sky with shades of orange, pink, and purple.
Slide 2
Discover Santorini: A Journey Through Time & Beauty
Discover Santorini: Unveil the Heart of the Island. Embark on a journey to experience the rich history, culture and breathtaking beauty of Santorini, from the Prophet Elias Monastery to the world-renowned Oia village, known for its stunning sunsets.
Slide 3
Discover Santorini: A Journey Through Time and Taste
Explore the rich history and culture of Santorini on a comprehensive tour starting with a visit to Profitis Elias and ending with a visit to the Venetsanos winery. Discover the unique and fascinating settlements of Megalochori, Akrotiri, and more, while learning about the rich winemaking heritage of the island and sampling some of its finest wines.
Book your guided tours Santorini with the Experts, and embark on an unforgettable journey through this captivating destination. Our team of experienced guides will accompany you as you discover the hidden gems and iconic landmarks that make Santorini truly special. From the mesmerizing sunsets in Oia to the vibrant streets of Fira, our carefully crafted tours will immerse you in the rich culture, history, and natural beauty of the island.
Explore a wide range of exciting tours in Santorini, organized by location, and uncover the hidden treasures of this enchanting island. Whether you're captivated by the iconic beauty of Oia, the vibrant charm of Fira, or the tranquil allure of the beaches, we have carefully curated tours that cater to your preferred destinations.
Unveiling the Timeless Beauty Santorini, often called the "Jewel of…
Santorini, renowned for its breathtaking sunsets and iconic blue-domed churches,…
There's something truly magical about watching the sun set in…