Introduction
When one thinks of Santorini, images of whitewashed villages perched on cliffs overlooking the azure sea often come to mind. However, this captivating Greek island is not only renowned for its picturesque landscapes but also for its stunning beaches. From the unique black, red, and white sands to the crystal-clear waters and breathtaking coastal cliffs, Santorini beaches offer a paradise-like experience for travelers seeking relaxation and natural beauty. In this article, we will take you on a journey to discover the most enchanting beaches that Santorini has to offer.
Let's dive in the Santorini Beaches
Perissa Beach – Santorini Beaches
Situated on the southeastern coast of Santorini, Perissa Beach is famous for its striking black volcanic sand that stretches for almost seven kilometers. Surrounded by dramatic cliffs and crystalline waters, this beach is a haven for sun-seekers, swimmers, and water sports enthusiasts. Relax on a sunbed under the shade of umbrellas, take a dip in the refreshing Aegean Sea, or indulge in beachfront dining at the vibrant seaside tavernas.
Red Beach – Santorini beaches
Nestled near the ancient site of Akrotiri, Red Beach is a marvel of nature with its unique red-hued cliffs and sand. Accessible by foot or boat, this secluded beach offers a surreal setting that feels like stepping into another world. Snorkelers will be delighted by the vibrant underwater ecosystem teeming with marine life. However, due to its popularity and limited space, it is advisable to arrive early to secure a spot on this remarkable beach.
Kamari (Black) Beach – Santorini Beaches
Located on the eastern coast of Santorini, Kamari Beach is a beautiful blend of volcanic black sand, clear waters, and a vibrant beachfront promenade. This organized beach boasts a wide range of amenities, including sun loungers, umbrellas, water sports facilities, and beachside cafes. Take a leisurely stroll along the bustling promenade, indulge in delicious Greek cuisine, or simply unwind on the beach while enjoying breathtaking views of the Aegean Sea.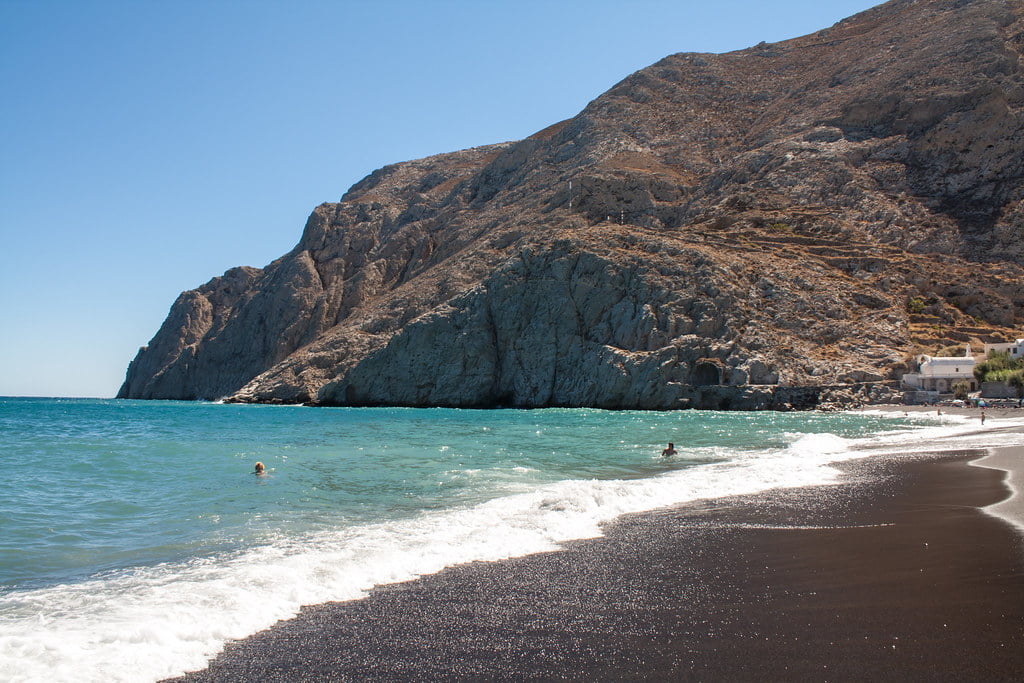 White Beach – Santorini Beaches
Accessible only by boat or by hiking from Red Beach, White Beach is a hidden gem nestled between towering white cliffs. As its name suggests, the beach features striking white pebbles and shimmering turquoise waters. This secluded paradise offers tranquility and a sense of seclusion, perfect for those looking to escape the crowds. Pack a picnic, snorkel in the crystal-clear waters, and embrace the serene ambiance of this idyllic beach.
Conclusion for Santorini Beaches
Santorini's beaches offer a diverse and captivating coastal experience that complements its iconic caldera views. Whether you seek relaxation, water sports, or picturesque scenery, the island's beaches have something to offer every traveler. From the volcanic black sands of Perissa Beach to the unique landscapes of Red Beach and the tranquility of White Beach, Santorini's beaches are a true paradise waiting to be explored. So pack your swimsuit, sunscreen, and sense of adventure, and prepare to be enchanted by the stunning beaches of Santorini.